Senior Government Officials from 12 Countries paid a special visit to XCMG
Recently, some 38 senior government officials on urban infrastructure construction from 12 developing countries paid a special visit to XCMG and carried out in-depth exchanges of experience with the company's representatives concerning urban infrastructure construction and planning. Under the organization of China Chamber of Commerce for Import and Export of Machinery and Electronic Products, Ms. Jiang Nan, Party Secretary, Ms. Zhang Yanmei and Mr. Liu Quan, deputy general-managers of XCMG participated the event as well.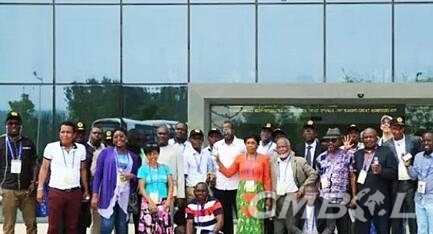 It is said that the purpose of their visit to China lies in learning about the experience on urban infrastructure planning and construction from China. The visiting focus on XCMG set by CCCME is to assist officials from developing countries to exchange and borrow the company's experience in participating urban infrastructure construction in a more direct, tridimensional and comprehensive manner via the experience of XCMG.
Officials from 12 African countries have successively visited the company's exhibition hall, road machinery manufacturing base, sanitation machinery manufacturing base and mining machinery division and watched the performance of XCMG ET110, the so-called "Spider Man", systemically understanding the company's experience and achievement regarding urban infrastructure construction in the whole world. During the tour, the high performance and quality of XCMG's equipment have deeply impressed the officials from developing countries. They fully acknowledged the golden principle of "Leading Technology, Everlasting Products" initiated by XCMG. Showcasing full confidence towards the company's cutting-edge technology, the officials expressed strong intention of cooperation. On the site of ET110's performance, all African officials recorded the scene with their smart phones, substantially convinced by the strong and outstanding capability of the product adapt to various working conditions. African delegates all took photos in front of ET111 after the event.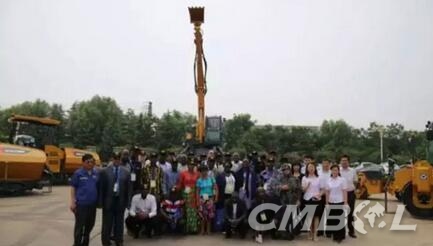 The following exchange and interaction between senior government officials and XCMG lasted for nearly 2 hours, which deepened the bilateral understanding and both sides held strong expectation and confidence of forthcoming cooperation. Ms. Jiang Nan, Party Secretary of XCMG introduced the corporate overall capability and development in Africa.
Founded in 1943, XCMG has maintained the leading position in China's construction machinery industry, and the TOP5 globally. At present, the corporation's products have been distributed to 177 countries and regions with its due contribution to the infrastructure construction around the world. Since the 1990s, XCMG has stepped into the African market. Over 30-year-long experience helps it win the trust and support from local customers, as its African business covers over 50 countries and regions, together with 6 major training centers, over 20 parts service centers and near 30 first-class dealers.
XCMG has been proactively involved in infrastructure construction in Africa, for example, Oil Refining Project in Ethiopia, Construction Project of Port Mombasa – Nairobi railway, Road Construction in Ghana, Port Construction in Djibouti and other infrastructure construction. XCMG has accumulated abundant experience in urban infrastructure construction. Meanwhile, company leaders and African government delegations visited each other from time to time, deepening friendship and facilitating win-win cooperation for the sake of furthering the development in Africa. In addition, XCMG, a company shouldering much social responsibility, has conducted a number of charity events, like XCMG International Scholarship, African Cellar, Technician Training and etc., making its due contribution in improving the livelihood of African people in a constant manner.