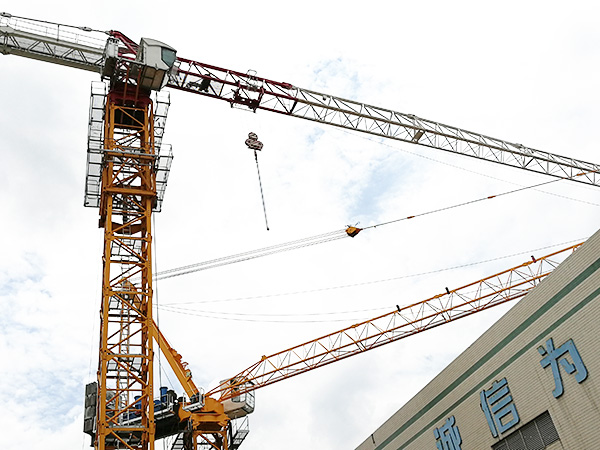 QTB321 (7526)
we have brought in over 100 sets of Panasonic and ABB welding robot. We have 12 automatic painting line and more than 1,000 sets of equipment including large plasma cutting machine, CNC drilling machine, milling machine, lathe, boring machine, welding machine and special tooling equipment
Boom end hoisting capacity

2 .6t

Max. hoisting capacity

18t
Overview
At present, we have brought in over 100 sets of Panasonic and ABB welding robot. We have 12 automatic painting line and more than 1,000 sets of equipment including large plasma cutting machine, CNC drilling machine, milling machine, lathe, boring machine, welding machine and special tooling equipment. Advanced equipment and automated assembly line ensure the quality of product in the process.
Meanwhile, we have established strategic partnership and supply relationship with Baosteel, Ansteel, Dezhou Shengjian, Rothe Erde, Siemens, Zhejiang Sanmen, Schneider and other international first-class enterprises, which ensures good quality of Dahan products in terms of raw materials and spare parts.
10 major advantages of Dahan tower cranes
1.Dahan products have the highest price-performance ratio in the industry. With 60,000 tower cranes in the markets, Dahan has won good reputation among customers. For many years, Dahan ranked first in terms of the production and sales volume of small and medium-sized tower cranes in China.
2. Dahan has participated in the compilation and revision of China's national standards for tower cranes. With a top R&D team in the industry, Dahan products all have guaranteed quality with various technical measures like computerized element analysis, tensile experiment, material impact experiment, flaw detection experiment, salt spray test, thickness test, paint film thickness test, etc. Dahan has 15 years experience in production and quality management and has gained 84 national technology patents.

3.The parts all adopt raw materials from famous brands like Baosteel, Laiwu Steel, etc., which guarantees the reliability of product quality and favorable prices. The major parts like main limbs of standard section and frame, and the boom parts all adopt Q345B manganese steel, which improves the tensile strength by 30%, making the product more safe and reliable.

4. Dahan is the first in China's tower crane industry to use robot welding. At present, Dahan has more than 100 robots and a full automatic standard section welding line integrating cutting, welding, and machining operations. The major parts of the products are all welded by robots. Dahan adopts the most advanced CO2 and argon mixed gas arc welding, which features big fusion depth, good welding quality and stable performance.

5. All the parts adopts products of first-class brands, including Schneider electric parts like aviation plug, stainless steel distribution box, etc., which features low trouble rate and more convenient installation. Hoisting mechanism of famous Chinese brands, filled with high quality oil for maintenance free, features high reliability and low trouble rate. Equipped with Fangyuan or Xuzhou Rothe Erde slewing bearing products, which adopt two time tempering technology, the product runs more smoothly and has longer service life.

6. Focus on the quality of details. It uses high strength bolts of marine Dacrotized technology which features high anti-rust capability. The bolt pretightening force is improved by 30% due to the use of fine thread, compared with traditional bolts. The weight restriction device adopts tension ring structure; the limit devices for lifting, amplitude change and slewing operation adopts cast aluminum shell for longer service life.

7.The large structural parts like standard section, turntable, tower cap, and hoisting boom are all machined after welding with advanced equipment like CNC lathe, drilling and milling machine, which effectively ensures the precision of product assembly, reduces trouble rate and improves safety.

8. With 12 full automatic coating lines and shot blasting technology, it ensures the cleanness of steel surfaces, eliminates the internal stress for welding, improves the steel strength and hardness, and improves the adhesion of the paint film. With two times of priming paint and one finishing coat, it has beautiful appearance and 2 times higher anti-corrosion capability compared with common coating technology. The small parts like trolley, guard bars, etc. adopt hot galvanizing treatment after acid pickling and phosphorization treatment for higher anti-rust capability.

9.Equipped with various safety devices for the limit of lifting, amplitude change and slewing, torque and weight. The steel wire rope is mounted with anti-off and anti-broken devices. The variable amplitude trolley is mounted with axle anti-broken, anti-off and anti-tipping devices. The electric devices are mounted with overload and overcurrent protection devices, combined with PLC self-diagnosis system, it is very convenient for system inspection and repair.

10. Dahan has three production bases respectively located in Shandong, Hunan and Guangdong Provinces. Dahan products have been distributed to more than 100 countries and areas. With over 1,000 service outlets, Dahan provides customers with high quality and efficient services and peace of mind.

Specifications
Name
Code
Operating speed(m/min)
Hoisting capability(t)
Rope capacity(m)
Motor rated power

Hoisting
KW167B-35.7-YZPE-7.5

2fall
0~6.4
9.0
530
75KW
0~16
9.0
0~32.2
9.0
0~48.2
6.7
0~80
4.5

4fall
0~3.2
18.0
0~8.1
18.0
0~16.1
18.0
0~24.1
13.3
0~40
9.0

Trolleying
11DFV10
0~50


7.5KW

Slewing
DC
0~0.7


2*7.5KW

Power
108.5KW